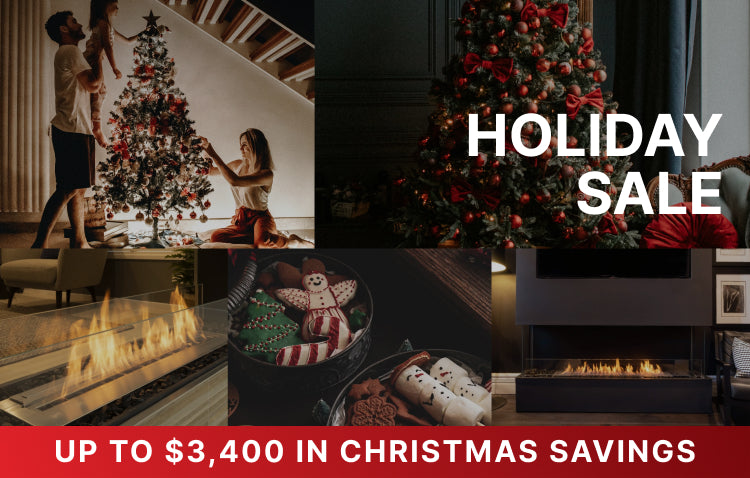 Holiday Sale
Up to $3,400 in Christmas Savings!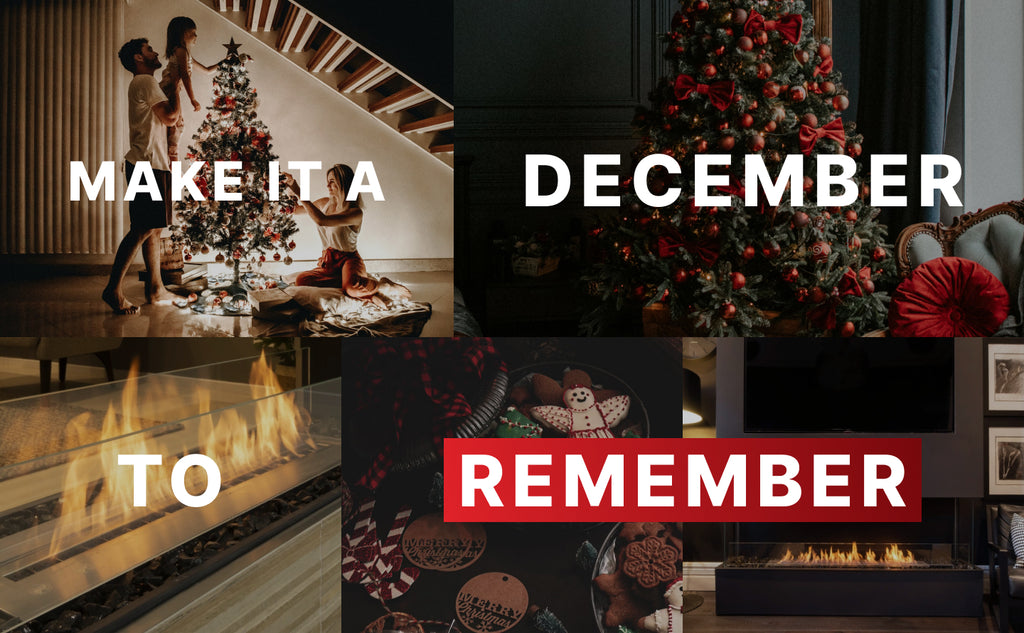 The World Leader in Ethanol Fireplace Solutions
Light up your residential or commercial space with a luxurious ethanol fireplace. Choose from our selection of eco-friendly bio-ethanol fireplace solutions, and get your new fireplace delivered conveniently to your doorstep, regardless of your location.
The Benefits of Ethanol Fireplaces
Our ethanol fireplaces have a variety of benefits that make them a great alternative to electric fireplaces, fire pits, and traditional fireplaces.
Bio-ethanol fuel is a superior, biodegradable, environmentally friendly, and renewable fuel source made from sugars such as potatoes, beets, sugar cane, and other plants.
Our ethanol fireplaces are easy to install without needing permanent connections such as flues, venting, chimneys, outlets, or gas lines. Our fireplaces come equipped with all the necessary accessories and hardware for easy assembly, installation, and use.
When you choose an ethanol fireplace, you don't have to compromise on air quality. While traditional fireplaces, such as natural gas fireplaces, release toxins into the air, bio-ethanol fireplace fuel burns cleanly, with the only byproducts being small amounts of carbon dioxide and water vapor.
Bio-ethanol fuel produces a clean burn, eliminating smoke and odors. Unlike traditional wood-burning fireplaces, which leave behind ash or soot that must be cleaned frequently, there is no post-ignition cleanup required with bio-ethanol fireplaces.
Looking for a way to light up your indoor or outdoor living or commercial space? Bio Flame's advanced fireplaces are the best indoor and outdoor ethanol fireplace option as they don't affect air quality and are built to prevent corrosion.
Our ethanol fireplaces produce a real flame that provides ample light and can heat an entire room. The dancing flames are bright and can produce up to 18.9 Kw/h on average of 162m2/1,808ft2, depending on the size of the fireplace you purchase.
Bio Flame ethanol fireplaces feature a patented heat isolation chamber, making it a safe heating source for your home or commercial space. Our SMART burner collection takes safety to the next level with cutting-edge safety sensors that detect carbon dioxide, overheating, and other malfunctions.
When you want to ignite your bio-ethanol fireplace, simply fill it, light it up, and enjoy the warmth of the fire. Since our fireplaces are clean burning and don't produce ash or soot, the only cleaning process to follow is dusting your fireplace every so often.
Shop Our Ethanol Fireplace Selection
As industry-leading ethanol fireplace manufacturers, we have an experienced research and development team constantly pushing the limits for innovative design and maximum fuel efficiency. Bio Flame outshines competitors time and time again with new products, accessories, and designs. Browse our ethanol fireplace selection and find the best one for your home or commercial area.
The Highest Safety Standards
Bio Flame fireplaces provide complete peace of mind. We are the only ethanol fireplace company to become UL (Underwriters Laboratories), and UL-C (Underwriter Laboratories Canada) certified. Additionally, all of our ethanol ventless fireplaces undergo rigorous testing to ensure they meet the highest safety standards in North America, Australia, and Europe.
Exceptional Designs
Bio Flame's ethanol fireplaces are both innovative and aesthetically pleasing, making them a sought-after option by home builders, hotels, resorts, and homeowners worldwide. We also offer flexible options with minimal design constraints, perfect for any space.
5-Year Warranty
Our superior ethanol fireplaces are constructed with 304-grade stainless steel that prevents corrosion and can withstand extreme temperatures, an ideal heat solution for both indoor and outdoor use. We also offer an industry-leading five-year warranty on all of our fireplace models.
Join our thousands of customers who love their Bio Flame fireplaces!
Join our thousands of customers who love their Bio Flame fireplaces!
"Our neighbor had installed a Bio Flame last year and recommended it to us. We finally got around to installing ours and couldn't be happier. The installation was quite simple and no connections required. The flame is real (which I love) and the fireplace is very easy to use."
Join our thousands of customers who love their Bio Flame fireplaces!
Very happy with the fireplace my wife and I installed in our living area. While many suppliers were out of stock, we had our Bio Flame delivered in 5 days from time of order, and installed in less than 30 minutes. Highly recommend this company.
Join our thousands of customers who love their Bio Flame fireplaces!
I have had a long-term relationship with Bio Flame for their fireplaces. Nothing but great things to say about their product and service.
Find Your Perfect Bioethanol Fireplace Today
Browse through our selection of cutting-edge ethanol fireplaces and top-quality bioethanol fuel to illuminate your residential or commercial area.
If you need help finding the right ethanol fireplace for your space, reach out to us and explore our custom design options.