Benefits of Bio Flame Ethanol Fuel

Environmentally Friendly
Bioethanol fuel is made from renewable, all-natural resources, eliminating the need to cut down valuable trees that take much longer to regenerate.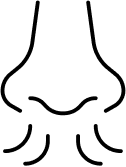 Better Breathing
With Bio Flame ethanol fuel, you can feel comfortable knowing that no harmful toxins or chemicals are being released into your space.

Cleaner Source
Cleaning a Bio Flame, whether free-standing or wall-mounted, is a breeze as the fuel creates a clean heat source, so you don't need to worry about cleaning ash or soot.

Super Simple
Bio ethanol fuel used in a Bio Flame fireplace is easy to use. Simply refill it and never worry about spills or trekking out in the cold weather for another log again